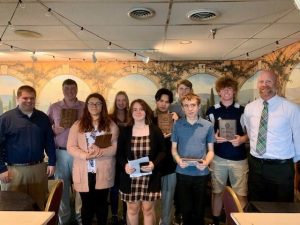 Each academic month two students each from grades 9, 10, 11 and 12 are selected as Rotary Students of the Month by the staff and administration of Celina High School.  These students introduce themselves to the Rotary members each time and enjoy their "luncheon out." Once each student reaches their senior year they are eligible to apply to receive one of the four $2,000 Annual Rotary scholarships. Those who choose to attend WSU Lake Campus give an additional $1,000.
Congratulations to the 2021
Celina High School
, Celina Rotary Scholarship recipients! Pictured is President Tony Schwieterman presenting $2000 scholarships to Zachary Hirsch, Ashley Loughridge, Emma Menchhofer, and Maggie Zhang.
We expect great things from these future leaders!
Congratulations to the recipient of the 2021 Family of Rotary Scholarship, Mason Muether. Mason is the son of Gary & Liz Muether. Mason will be attending Ohio Northern University majoring in statistics. Pictured presenting Mason the scholarship is President Tony Schwieterman